Portland, Maine has so many fun tours! I fell in love with Portland and truly love everything this charming little New England city has to offer. To make your trip to Portland, Maine even more amazing, definitely take one (or a few) of the below tours. They really are the best way to experience the city. 
Portland is a gorgeous place to visit with lots of little cafes, shops, historic homes, lighthouses, and breathtaking coastlines to last you a lifetime. 
To make the most of your experience, I've put together a list of my favorite Portland, Maine tours so you don't miss out on anything. Enjoy. 🙂
The 10 Best Portland, Maine Tours You Need to Experience
1. Food Tasting Tour in Old Port
One of my favorite things about Portland, Maine is the food! Portland is actually a fantastic foodie town. For being so small the number of food digs around the city is surprising. As you might imagine, seafood is big here.
Portland's food tasting tour is amazing because it is a walking tour of Old Port and you'll get to try cuisine from six of the best restaurants in the area. You'll even get to meet local chefs which is really cool. See here for tour details and current price.
2. Take a Portland Brewery Tour
Sticking with the food and drink theme, Portland also has an amazing micro-brew scene! Some of the super popular Portland breweries are Shipyard, Allagash, and Rising Tide Brewing Company.
I have taken a TON of brewery tours and I seriously love them all. Such a fun experience. These Portland brewery tours include a behind the scenes look at where the craft brew magic happens, plus a little bit of info about how beer is made and what sets Portland beer apart from other breweries.
Below are some of my favorite Portland brewery tours that I know you'll love:
3. Take a Maine Lighthouse Tour
One of my favorite things about visiting Portland is exploring all of the lighthouses. The lighthouses in Maine are iconic. Plus add in the rocky coasts and scenic shorelines and guys, I seriously just swoon.
The Maine lighthouse tour is a full-day adventure that starts in Southern New Hampshire and explores Maine's gorgeous coastlines. The tour includes an experienced guide so you won't have to worry about a thing as you float your way up the Atlantic Ocean. It even includes samples of locally made products and dining on Maine lobster, which is a really awesome little bonus. See here for tour details and current price.   
4. Portland City Bike Tour
I am honestly a sucker for a good bike tour, they're so fun!

This Portland bike tour

is super cool because it is a casual 8 to 10 mile bike ride through the city exploring some favorite local spots.
I guarantee you you'll see so much more of the city with this tour than you would on foot. Plus, you'll explore new neighborhoods that you probably wouldn't go to without the tour. See here for tour details and current price.   
5. Take a Narrated Tour aboard a Vintage Fire Engine
This is possibly the most unique way to see any city! Portland offers a 1-hour sightseeing tour on a classic fire engine. With this tour you'll see picture-perfect lighthouses, unmatched views of the coast, and a live narration of the city.
The narration is really what's amazing since you get to discover Portland's rich history. See here for tour details and current price.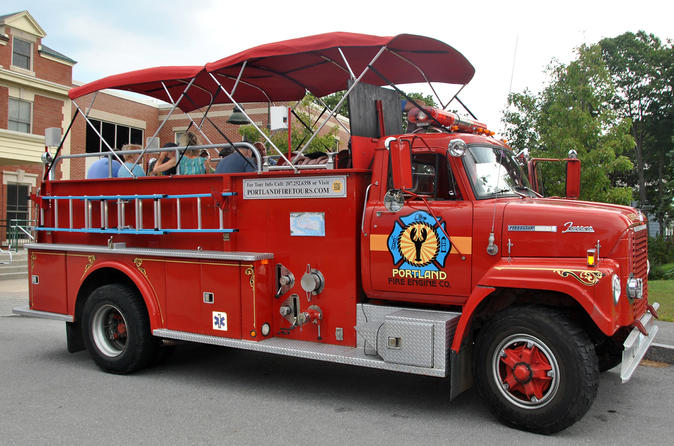 6. Charter a Private Vintage Lobster Boat for Sunset
This tour is the ultimate Maine experience! You'll set sail in a vintage lobster boat for a 2-hour tour with gorgeous views of the Maine coastline.
You'll see some amazing lighthouses as you pass by as well as learn about nautical life in Maine. The charter tour includes a captain as well as a deckhand who serves as your guide. See here for tour details and current price.  
7. Stand Up Paddle Board Tour
Paddle boarding is one of my favorite water activities! This stand up paddle board tour starts about 30 minutes north of Portland in Brunswick Maine. Here you'll find the Casco Bay, which has nice calm waters that's perfect for paddle boarding.
The 2 hour tour is a super fun activity, plus a great way to sight-see from the water. See here for tour details and current price.   
8. Sea Kayak Tour
Another favorite is taking a sea kayak tour around Maine's beautiful coastline. This sea kayak tour is also located in Brunswick, Maine because the Casco Bay is perfect for sea kayaking, too!
Sea kayaking is an easy and fun water activity that's perfect for all ages, no experience needed. If you're lucky, you'll even see a seal. :) See here for tour details and current price.
9. Take a Tour of the Tate House Museum
The Tate House Museum is Greater-Portland's only pre-Revolutionary home still open to the public. The Tate House Musuem tour allows you to get an exclusive look at this lovely 18th century home.
You will be lead around the home by an experienced guide who will share interesting facts about the home and its architectural history. See here for tour details and current price.  
 Source
10. Haunted Portland Maine Comedy Tour
This tour is so much fun! I love ghost tours, but this one is super unique because it's a comedy of haunted history in Portland. The Portland Comedy of Haunted History tour is held by local professional actors and comedians and shares Maine's haunted history dating back to the 1600's. It's about a 1/2 mile walk and includes 8 stops. See here for tour details and current price. 
All of these Portland, Maine tours are so fun, I know you'll have a great time no matter which you choose. For more tips on what to do in Portland, Maine keep reading!
Read More

18 (Awesome!) Things to Do in Portland, Maine
The Ultimate Guide to Portland, Maine
Everything You Need to Know for Visiting Maine
Everything You Need to Know About Acadia National Park

Like this post? Pin it for later!
What's your favorite Portland, Maine tour? Love to know in the comments below!