In a hurry? Want to save this post?

There are so many fun things to do in Portland, Maine. I was really wowed by the city, and fell instantly in love (even though it rained most of the time!). Portland is the largest city in Maine, and I was really surprised by how charming it is.
Portland is referred to as the "city of the sea" and it has a plethora of cafés, bars, historic homes and cobblestone street. Complete with redbrick warehouse buildings and Victorian mansions, Portland is super trendy and lively. For being such a small city, it definitely does not lack in tasty eateries and boutique shops.
If you're wondering what to do in Portland, Maine, look no further. Here's 18 awesome things to do in Portland, Maine, enjoy! 🙂
18 Awesome Things To Do in Portland, Maine
1. Portland's Head Lighthouse
Portland's Head Lighthouse is famous, and for good reason. It is extremely picturesque. The lighthouse is located on Fort Williams Park, this is the perfect spot to set up a picnic and enjoy Maine's gorgeous seaside views. Also, be sure to check out the ruins of a 19th century fort.
For more of a splurge, you can even charter a vintage lobster boat and see the lighthouse from the water!
If you really love lighthouses, you may be interested in this full day Maine Lighthouse Tour. One of my favorite things about visiting Portland was exploring all of the lighthouses and this tour is perfect for that. It starts in Southern New Hampshire and explores Maine's gorgeous coastlines with an experienced guide. It even includes sampling locally made products and dining on Maine lobster, which is really awesome.

2. Grab a Donut at The Holy Donut
The Holy Donut is famous in Portland! These handmade donuts are made daily with all-natural ingredients. There are at least 16 delicious flavors available a day, including maple bacon, coffee cake, and chai glazed. #yum
3. Explore the Old Port
The Old Port is the historic heartbeat of Portland. I loved this area! Here you can expect to see 19th century red brick buildings, gas lanterns, and cobblestone streets.
There is so much to do in this area, it's honestly best to just wander around and explore. Dive into some fresh seafood, go to a local microbrew, shop at the designer boutiques, or splurge on nautical themed clothing.
4. Take a Narrated Tour aboard a Vintage Fire Engine
This is possibly the most unique way to see any city! Portland offers a 1-hour sightseeing tour on a classic fire engine. With this tour you'll see picture-perfect lighthouses, unmatched views of the coast, and a live narration of the city. The narration is really what's amazing since you get to discover Portland's rich history.
In a rush? Save this post as a PDF!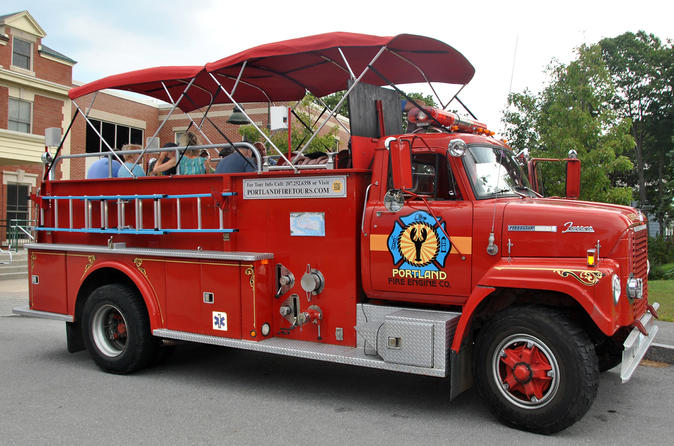 5. Eat Lunch at Public Market House
The Public Market House is the perfect spot to break for lunch. The idea behind the Public Market House is to create an in-town public market by providing a community gathering place that celebrates Maine people, food and agricultural traditions. Some great spots are Maine Beer & Beverage Co., Big Sky Bread Company, and Maine Squeeze.
6. Go Kayaking
Another favorite is taking a sea kayak tour around Maine's beautiful coastline. This sea kayak tour is also located in Brunswick, Maine because the Casco Bay is perfect for sea kayaking!
Sea kayaking is an easy and fun water activity that's perfect for all ages, no experience needed. If you're lucky, you'll even see a seal.
See here for tour details and current price.
7. Eat Clam Chowder
To be completely honest, I was expecting lobster bisque to be all the rage in Maine. It turns out, clam chowder is everywhere, and it was excellent. 🙂
I tried it (almost) every day, and I was never disappointed.
8. Take a Portland Bike Tour
I am honestly a sucker for a good bike tour, they're so fun!
Check out this link
to find some amazing tours and routes. Some of the most enticing for me were the Lobster Roll Tour and the Lighthouse Bike Tour.
If you enjoy jogging you can also go for a jog along Back Cove Loop. Back Cove Loop is one of Portland's most popular paths, and it conveniently provides great views of the water and city.
9. Eat a Lobster Roll
You seriously HAVE to do this. Eating a lobster roll is a must.
Like, they are a New England food staple!
There are many places to eat a lobster roll, but Portland Lobster Co. is super popular and a great place to go. The location is also perfect for tourists! You can enjoy your lobster roll with a seaside, harbor view.
10. Go Whale Watching
Whale watching is a seasonal activity, generally from end of August – Mid October. A great company to go with is Odyssey Whale Watch, however make sure you book in advance.
11. Portland Museum of Art
For such a small city, Portland carries some big names at the Portland Museum of Art. Founded in 1882, the Portland Museum of Art has a fantastic collection of American artists. Most notable Maine artists are Winslow Homer, and Edward Hopper. They also carry Andy Warhol, Claude Monet.
Want to reference this for later? Save this post!
12. Take a Portland Brewery Tour
Portland also has an amazing micro-brew scene. You may have heard of some of the super popular ones like Shipyard, Allagash, and Rising Tide Brewing Company.
You can find local brews in the restaurants and bars, however for a way more fun experience I would highly recommend taking a beer tour.
Below are some of my favorites:
13. Explore the Vintage Shops
Portland, Maine has a great collection of vintage shops! I some awesome finds such as fur coats (or coats in general), cowboy boots, and unique jewelry. Most of the vintage shops are located on Congress Street, but two favorites were Moody Lord's and Haberdashery.
14. Do an Escape Room
Wanting to do something different and exciting in Portland? Why not participate in an Escape Room! Use teamwork to solve problems, find clues, and solve a series of puzzles to escape the room.
15. Go to the Green Elephant for Vegan Food
If you're a vegetarian or vegan, definitely check out the Green Elephant. Here you'll find an assortment of Asian-inspired vegetarian dishes. Some yummy dishes are rom tempeh curry and noodles with vegan duck.
16. Have a Snack at Bam Bam Bakery
Bam Bam Bakery is the perfect spot for coffee and a snack. The baked goods were created with the discerning palate in mind. Besides coffee, there is an assortment of gluten-free breads, desserts & cafe items, including vegan eats.
17. Take a Tour of the Tate House Museum
The Tate House Museum is Greater-Portland's only pre-Revolutionary home still open to the public. Come take a tour of this lovely 18th century home where an experienced guide will lead you through the home for about an hour and a half.
18. Eat a Whoopie Pie!
Prior to my visit to Portland Maine I had no idea how popular whoopie pies were.
Honestly, they are like, a big deal in Maine.
Funny story is that they were invented in Maine, however apparently Pennsylvania also claims to have created the whoopie pie, too. #awkward
If you don't know what a whoopie pie is, they draw comparisons to an oreo cookie...but better! But basically they are cream-filled chocolate cakes however in Maine they come in many flavors! Check out Two Fat Cats Bakery for some delicious flavors.
In a hurry? Want to save this post?
Note: If you're in Freeport, definitely go to Wicked Whoopies for a vast array of flavors such as oatmeal cream, strawberry, and orange creamsicle.
I absolutely loved my visit to Portland, Maine and I know you will, too! You'll find there are lots of things to do in Portland, and I hope this post helped you plan your itinerary. 🙂
Read More
The Ultimate Guide to Portland, Maine
Everything You Need to Know for Visiting Maine
Everything You Need to Know About Acadia National Park
Like this post? Pin it for later!
What would you add to your "things to do in Portland" list? Love to know in the comments below!